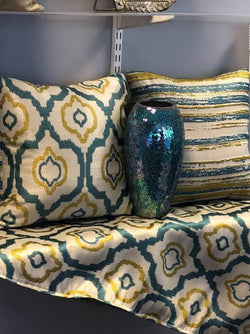 TheTrinityDecor
SMOOTH & GROOVE ENSEMBLE PILLOWS & TABLE RUNNER
Teal/Green Pillows & Table Runner
Complete your space with this smooth and groove reversible ensemble! Includes two18" polyester fiberfill filled pillows and a 69" x 18" table runner. The fabrics are a polyester blend.
Dry clean only. 
 ***** Get 10% off when you buy a Trinity Ensemble, (2) pillows and a throw. *****
Use discount code (TRINITY3) for this ensemble only.